Welcome to Lac Hong Adult Day Care Center

Lac Hong Adult Day Care Center provides structured, comprehensive, non-residential adult day program for adults of all ages. Offered in a safe and caring home-like environment, our cost-effective program gives families an affordable alternative to costly nursing and/or residential care to help improve our clients health and well being. With a focus on our clients' physical strengths, mental well-being, and dietary health, our goal is to improve our clients' quality of life.


Our success is not measured in numbers, but in smiles...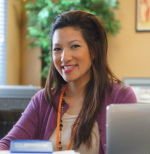 The Director's Corner:

Thank you so much for thinking about us when it comes to your personal care or care of your family members. We always enjoy the opportunity to get to know you, so on behalf of our clients both past and present, welcome to Lac Hong Adult Day Care, where I'm sure we'll make you feel right at home...

-Kimsa Nguyen, Director
---